I was born in the Bronx, NY and grew up in LIC. My interest in art germinated when I landed a job at Columbia Motion Pictures working in the print/mailroom. There I spent hours visiting the art department making friends and watching the artists create movie posters and 3D displays. I was then accepted by Pratt Institute, a prestigious Art School. Four years later, I received a Bachelor of Fine Arts Degree. Upon graduation, my first professional  job was a graphic designer at Dell Publishing designing sales and promotional materials for future books to be published. I went on to establish my own marketing/sales promotional design firm in Manhattan until retiring to Southern Florida. 
I became a member of the Boca Museum of Art and attended the museums art school. With my background in graphic design, I created portraits of people and animals. With my unique style and use of color, I qualified for signature membership in the Boca Artists Guild, a select group of juried artists.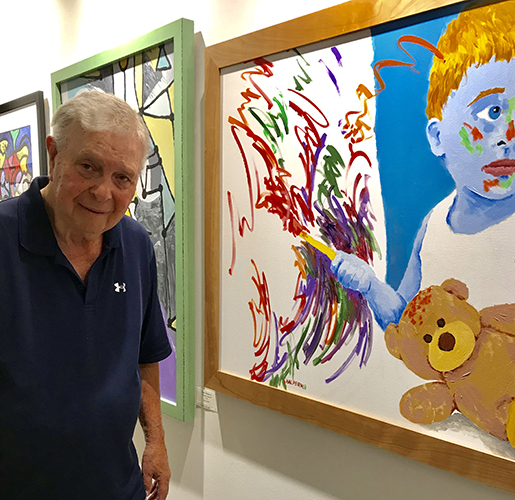 My art has been exhibited at:
– Boca Raton Museum of Art,
– Boca Artists Guild gallery,
– Living Room Gallery at FAU University,
– ArtServe Gallery, Fort Lauderdale, FL,
– Sugar Sands Park & Community Center,
– Boca Raton Museum Art School,
– Polo Club Boca Raton Arts & Craft Show.
– Unique and Artistic
– Great colors, amazing concepts
– Cool use of bold colors
– Just love this painting
– It's a winner
– Beautiful!
– Keep those paintings coming